Single in Music City: Adventures in dating
Prior to moving to Nashville, I was single for four years. As in, I went FOUR years without going on a date. Mostly because I'm so tired of it. But also, the pool of available men where I lived was like a puddle in July.
If anyone could bring art to life via the gif below, it's me: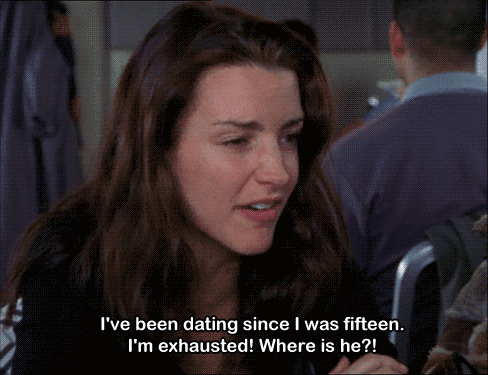 The entire concept is so annoying.
But, in order to meet someone, it's a necessary evil.
I thought when I moved to a city with approximately 1.6 million people, dating would be…easier? Strike that…meeting men would be easier – is the better way to phrase that.
I joined a gym. No one there.
I joined a church. I'm sure they are there, but it's huge and so far, I'm just focusing on finding friends.
Work. ehhh…preferably not, but still: nothing.
Kroger produce section? Nothing but eggplants and pineapples.
So, a colleague convinced me to try the online option [again]. So I did.
I mean, how else are you supposed to meet people??
The results have been…
Interesting.  And entertaining.
I'll admit, it's been frustrating too. I think I put too much into it at first and even let it affect my self-esteem. But then, after a few funny text stories about dating, my best friend has convinced me to look at it differently. She said, "consider it all blog material."
And you know what, that helps. A lot. It takes the pressure off this being a real thing and allows me to just laugh at the ridiculousness that comes with dating, specifically online dating.
More stories will come, but for now, I'll start with this nugget.
I guess I should disclose that I use Tinder for online dating. Go ahead and judge me but I've tried others, and honestly, with as little effort that I'm putting in to this, I don't want to pay fees. Tinder is free and while it does have a reputation, I promise you the same types of guys are found on Christian Mingle.  I don't like Bumble because I don't like talking first so, Tinder it is.
On a Saturday morning, Brody had woken me up to go out. I was laying in bed, trying to get back to sleep (because it's Saturday and I refuse to get up earlier than 9:30), when I checked my phone and saw that I had a notification that Chris* had messaged me.
(Disclaimer, I'm typing this word for word so lack of punctuation is not me.)
The message (just "Hey Miss Heather) had come in around 3 a.m. Who is on Tinder at 3 a.m. on a Saturday??
(I quickly figured out who.)
I replied with my hello.
He immediately responded. I was caught off guard because I figured he was sleeping off his Friday night.
"Hey :)" he says.
"Hi" I say.
"Come over" he says.
I tried to give  him the benefit of the doubt and play it off as a joke.
"Ha! It's 7:30. I'm working on going back to sleep." I knew this was risky because if he was a perv, then this would just be an invitation. But what else was I going to say?? It was the truth.
"Ok then come cuddle"
"Go to sleep Chris, you're still drunk." I said.
"A little. So that's a no?" he actually asks.
"Chug some Pedialyte, take two Tylenol and you'll wake up a brand new man." I advise hoping that brand new man would not recall this conversation.
And turns out, I was correct. I don't know if the Pedialyte happened or helped but I did not hear from him again.
The end.
But stay tuned! More to come!
*Names may have been changed to protect their egos.